Biz Expo, Ireland's largest B2B trade show, conference and networking event, is taking place on Friday, 22nd September 2023 at Croke Park's Hogan Suite in Dublin.
Bronagh Cotter, CEO of Recruit.ie, the main sponsors of Biz Expo, said: "We are delighted to be able to bring together so many businesses from various industries for this year's event. We are passionate about bringing businesses face to face to network and improve business opportunities. Biz Expo provides a great platform for businesses to showcase their products and services to a wide range of attendees who wish to network and discover new opportunities and do business."
Exhibitors confirmed so far are:
EBS
EBS was established in 1935, by Alex McCabe and a small group of teachers working together to help each other buy their family homes. 
Chateauform
Support and hospitality at the heart of Chateauform's profession.
.IE
.IE is the national registry for .ie domain names and the trusted and progressive guardian of Ireland's unique online .ie address.
Redcastle Technology 
Red Castle Technology is a cloud-based Software as a Service (SaaS) provider company, providing cutting-edge employee management and planned maintenance solutions.
Web World
Web World are a hosting provider and data centre based in Dublin, Ireland. 
Profile Technology
Profile Technology is a small independent Software and IT company based in the Northwest of Ireland who specialise in Business Management and Accounts software.  
Nomadic Display
Perhaps best known for inventing pop-up technology over thirty years ago, learn how Nomadic Display can help your business produce dynamic and creative exhibition stands that include backlit displays, counters, fabric displays and accessories
Fragomen
Fragomen is a leading firm dedicated exclusively to immigration services worldwide. 
TAPiTAG
TAPiTAG Smart Business Cards are helping companies of all sizes, move to a paperless & sustainable way of connecting and networking with clients through our cloud-based platform.
Magnet Plus 
Magnet Plus is Ireland's largest connectivity provider.  
CameraMatics 
CameraMatics is a driver-centric cloud system founded in 2016 by Mervyn O'Callaghan and Simon Murray.
ISME 
ISME, the Irish SME Association, is the only independent representative association for Small and Medium Enterprises and currently has in excess of 10,500 members nationwide.
Recruit.ie
Recruit.ie is a specialist recruitment consultancy and event organiser. 
Nightcourses.com
Nightcourses.com is Ireland's leading online search resource for part-time courses, evening classes and lifelong learning programmes. 
Peninsula Group 
Peninsula has been helping businesses to be compliant with HR and health & safety legislation for over 35 years.
Corporate Enforcement Authority (CEA) 
Established in July 2022 by the Companies (Corporate Enforcement Authority) Act 2021, the CEA's statutory mandate derives principally from the Companies Act 2014.
Snap Ireland
Your Trusted Business Partner 40 years in business Trusted for 40 years, Snap has been a reliable partner for all your business needs. 
EVAD Technology Group
EVAD Technology Group has been empowered by organisations all over Ireland, The UK, Europe, America, and Africa to protect and manage their mission-critical business services for nearly 15 years.  
iplicit 
iplicit is the latest innovation in True-Cloud accounting software.
PE Global
PE Global stands as a prominent global recruitment agency, specializing in delivering personalised recruitment solutions to SMEs as well as multinational organizations across domestic and international markets. 
Enable ISO 
Enable ISO was established to provide Auditing, Contracting & Consulting services to organizations who subscribe to ISO Management Systems Standards and other applicable Codes of Practice.
DHL Express
DHL Express Ireland is the market leading provider of Time Definite and Day Definite international express services in Ireland.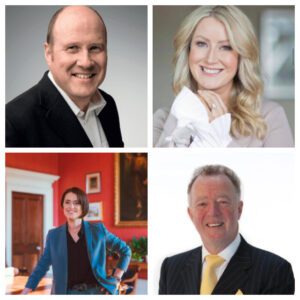 In addition to the large exhibitor hall, Biz Expo also features main stage presentations from influential keynote speakers that are guaranteed to inspire you and boost your business IQ, including broadcaster, columnist, businessman and former politician, Ivan Yates; Irish Times and Sunday Times best selling author, Andrea Hayes; Mags Boland Murphy, CEO at Bofin Consultancy and Growth & Profit Business Strategist; and Business Mentor and John Lowe, 'The Money Doctor'.
Further details on speakers at Speakers at the Biz Expo: Boost Your Business IQ! 
About Biz Expo
Biz Expo is Ireland's largest B2B trade show, conference and networking event, dedicated to small business owners and business professionals. The event has been held in Dublin since 2011. Biz Expo brings together thousands of business and decision-makers to network and shop for products and suppliers throughout Ireland. In addition to our large exhibitor hall, there are a host of networking opportunities including: business-critical workshops, speed networking, business card exchange and main stage presentations. Admission is free to business owners and professionals.