We are very excited to have Peninsula join Biz Expo 2022 as headline sponsors. Their team will be exhibiting at Sport Ireland National Indoor Arena on 29th September. You can learn more about their business and what service they can offer yours. They'll be available to chat between 10am and 4pm at this b2b networking event. Register for your FREE TICKET today right here.
Who are Peninsula?
Peninsula has been helping businesses to be compliant with HR and health & safety legislation for over 35 years. They're trusted by over 5,000 SME owners and employers across Ireland providing a unique service offering that is unparalleled in the marketplace.
At the heart of the company is a commitment to the health and growth of clients. This means they are not just a source of expert help, but are also a trusted partner. Furthermore, Peninsula pride themselves on delivering a service that mitigates risk, adds value, and allows businesses to focus their time on what they do best.
Peninsula knows that businesses change and grow, and their range of services has evolved in response to the unique needs of business owners. Peninsula supports you with all aspects of your business, from health & safety expertise to employment law and much more to deliver bespoke solutions based on your specific requirements, culture and ways of working.
For instant HR and Health & Safety support, call Peninsula today on 0818 923 923. Alternatively, you can visit their website at www.peninsula-ie.com
We are proud to have partners of good, UNICEF,  exhibit at the forthcoming Biz Expo event this autumn. You can learn more about UNICEF and the services they provide at Biz Expo 2022. Chat with their team anytime between 10am and 4pm at Sport Ireland National Indoor Arena on 29th September. You can register for FREE ADMISSION here.
About UNICEF
UNICEF unites with business to improve children's health, nutrition, education and protection. UNICEF is the world's leading organization for children. Not just because nearly 90 per cent of the world's population knows them, but because they do whatever it takes to protect the rights of every child, no matter who they are or where they live.
UNICEF collaborate with businesses from a multitude of industries who are aligned with their values and mission. They work together to ensure that children everywhere have the childhoods they deserve.
Their partnerships change children's lives whilst helping their leading global and national partners Primark and Aer Lingus achieve their aims and ambitions. They promote the rights of children in everything they do. Working across 190 countries, they transform their commitment into on-the-ground action, focusing special effort on reaching the most vulnerable and excluded children.
To realise its goals, UNICEF believes in collaborating with companies to achieve greater impact. UNICEF receives no funding from the UN budget; their partners support is vital in enabling them to continue to do more for the world's children than any other organisation.
Partnering with UNICEF has the potential to create significant, long-term impact for children around the world, raising vital funds for their work while simultaneously delivering business and brand results that matter for your customers and employees.
UNICEF Ireland's corporate partnerships team will support you in building a bespoke and innovative partnership that resonates with your business and ensures UNICEF can be there for every child. Partnering with UNICEF can:
Help your business develop a social purpose
Engage with your customers and drive sales through customer-related marketing campaigns
Utilise your business's expertise and resources to respond to global challenges and drive innovation at scale
Unite your employees behind a common goal of helping UNICEF be there for every child
UNICEF has gained significant learnings from developing and growing partnerships with some of the world's leading companies. They aim to provide outstanding relationship management in securing, growing, and renewing our partnerships, ensuring they achieve and exceed mutual goals.
UNICEF stands for every child. This is a huge challenge. Together, we can change children's lives, now and in the future.
In addition to the fantastic line-up of exhibitors at this autumn's Biz Expo, this B2B networking event will feature live talks from professional speakers on the Agenda Stage. Emma Boylan will be giving her talk, Branding your business, at 1:30pm. Biz Expo 2022 take place at Sport Ireland Nationa Indoor Training Centre on Thursday, 29th September. You can register today for your FREE TICKET right here.
Who is Emma Boylan?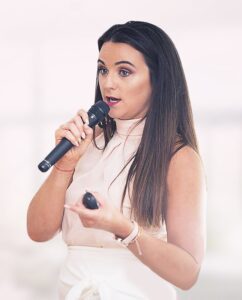 Emma is an international business and marketing coach and speaker and has worked with
clients and delivered workshops and training all over the world.
Emma helps clients to stand out, reach their ideal client and she's put many clients on a faster
path to more money, by doubling and tripling their income
She left her 9 to 5 job 9 years ago to fulfill her dream of starting her own business; when she
saw that most marketing was all the same and that businesses were really struggling to attract
the right clients and have a message that made them different. Using her passion for creative
content and background in psychology, over the 9 years, Emma built a business that has served
100's of businesses all over the world, helping them get crystal clear on their message, so they
stand out get noticed and fill their businesses with clients in record time!
Emma has a new exciting Instagram programme that can be done online, in your own time – www.emmaboylan.com/Instagram
Get in contact with Emma ; emmaboylanpr@gmail.com / www.emmaboylan.com
Are you an employer within the Construction, Manufacturing, Transport or Customer Service sector? Are you eager to hire new talent, but require recruitment services and expertise? Primtac Personnel Ltd. will be returning to exhibit at Biz Expo this autumn. You can chat with their team and learn more about their recruitment solutions on 29th September, between 10am and 4pm inside the National Indoor Training Centre. Pick up your FREE TICKET today by registering here.
Who are Primtac Personnel Ltd?
Primtac Personnel LTD was formed to provide skilled staff within the construction industry. Due to their continued success, they're now operating within the transport, manufacturing and customer service industries.
Their mission is to provide bespoke recruitment solutions and the right career opportunities and assignments for candidates.
Primtac take pride in exceeding customer expectations and welcome suggestions on what they can do to improve, innovate and provide tailored recruitment solutions for their clients.
We are delighted to have Dublin Chamber exhibit at this year's Biz Expo. Their team will be available to talk between 10am and 4pm on 29th September inside Sport Ireland National Indoor Arena. You can register for your FREE TICKET right here.
Who are Dublin Chamber?
Founded in 1783, Dublin Chamber is the largest and most influential B2B networking organisation in Dublin. They represent more than 1,300 businesses throughout the Greater Dublin region, which between them employ more than 300,000 staff.
Mission
Helping your business succeed in a successful Dublin.
Vision
That Dublin will be globally renowned for its quality of life, sustainability and economic vibrancy.
There are many benefits to becoming a member of the Dublin Chamber. From SMEs, scale-ups to corporate organisations, they can help you and your business succeed in a successful Dublin. Here are a list of some of the benefits you can get from becoming a member:
Grow Your Network – They offer a fully facilitated networking service from sales (speed) networking and online networking
Influence Change – ​Make your voice heard through the Chamber as they lobby to help businesses succeed in a successful Dublin
Events – Over 100 events to choose from varying from a wide range of themes such as Sustainability, Wellness, Tech Talks, Leader Series, Scaling your Business, Women Empower and more
Learn – ​Access the Sustainability Academy, the Digital Academy and the Sales Academy
Export & Internationalise  – ​Connect to global markets with the help of their specialist advisors and professional export services including certificates of origin, legals and Carnets
Introductions – They can introduce you to the right people and help you build your connections
Promote Your Business – Share your company news and achievements on the Chambers social media channels
Media – ​Potential branding opportunities with their media partners
Do you require new signage or display stands for your office or events? Learn more about the products and services Flynn Signs & Display's have to offer. Their team will be available to chat at Biz Expo 2022 on 29th September inside Sport Ireland National Indoor Arena. All you need to do to get FREE ACCESS is to register here.
Who are Flynn Signs & Display?
At Flynn Signs & Display they're experts in the design and manufacture of all types of signs. They combine years of experience with modern processes and equipment to provide a first class service and range of products.
Whether it's traditional or modern digitally printed signage – they'll be happy to discuss all of your requirements. They will design, manufacture and if required fit your signs. Flynn pride themselves on giving you a creative and eye catching solution to suit your needs.
They are a family based business and always happy to take your enquiry by phone or e-mail if you don't see what you are looking for on the website, so please get in touch.
​Supplying signs and associated products and services nationwide for over 60 years.
Check out their engraving:
eir Ireland logo:
The Corporate Enforcement Authority will be exhibiting at Biz Expo 2022. If you are interested in company law and want to learn more about the CEA you can chat with their team on 29th September inside the National Indoor Arena between 10am and 4pm. You can register for your FREE TICKET right here.
About Corporate Enforcement Authority
Established in July 2022 by the Companies (Corporate Enforcement Authority) Act 2021, the CEA's statutory mandate derives principally from the Companies Act 2014. The CEA is also conferred with statutory functions in respect of certain investment vehicles under the Irish Collective Asset-management Vehicles Act 2015. In addition, the CEA is the competent authority for the purpose of imposing sanctions on company directors under the Companies (Statutory Audits) Act 2018.
The CEA's functions under the Companies Act 2014 include:
Promoting compliance with company law. They do this in a variety of ways, including through the publication of information and guidance material;
Assessing the behaviour and conduct of the directors of insolvent companies (i.e., companies unable to pay their debts) in liquidation and adjudicating upon whether public protection considerations warrant a director being restricted or disqualified (a restricted director is subject to certain restrictions if s/he wishes to act as a director while a disqualified director is prohibited from acting as a director for the duration of the disqualification period);
Investigating instances of suspected breaches of company law.
Taking appropriate enforcement action in response to identified breaches of company law. Enforcement action can include;
Issuing warnings and requiring evidence of voluntary rectification of non-compliance;
Requiring certain persons to take steps to bring about compliance. For example, requiring a company's directors to convene and Annual General Meeting of the company;
Applying to Court for orders requiring steps to be taken to bring about compliance – for example, where a person has failed to comply with a direction issued by the CEA;
In certain circumstances, applying to Court to have a person disqualified as a company director;
Criminal prosecution;
Where a matter of concern is identified that falls within the remit of another statutory regulator or enforcement body, they have the power to share relevant information with that other body.
Complaints, Concerns and Protected Disclosures
The CEA receive information from a variety of sources. Certain professionals, e.g., auditors, examiners, and receivers, are required by law to make reports to them under certain circumstances. Certain professional bodies have similar obligations. In addition, every liquidator appointed to an insolvent company has certain reporting obligations to them.
They actively encourage members of the public to submit complaints and concern to them where there are indications of non-compliance with company law. In certain circumstances, a person may be eligible to make a protected disclosure to them also. Where in any doubt, independent legal advice should be sought. Further information as to how to make a complaint, submit a concern or make a protected disclosure is available on the Complaints, Concerns & Protected Disclosures page.
Certain other regulatory and enforcement bodies may (and, in certain circumstances, must) refer matters suggestive of a breach of company law to them.
Information & Guidance
Company directors and secretaries occupy key governance positions and have a range of corresponding duties and responsibilities under company law. In order to assist directors and secretaries to navigate their responsibilities, the CEA has published a range of information and guidance documents which seek to summarise:
companies' duties and responsibilities;
directors' duties and responsibilities;
secretaries' duties and responsibilities;
members' and shareholders' rights;
creditors' rights; and
the roles and responsibilities of auditors, liquidators, receivers, and examiners, respectively.
Furthermore, the CEA have published a Single Guide, which provides a useful summary of the above in one document.
Social Media
For regular news and updates, follow the CEA on its social media channels.
Are you seeking financial services for your business? SYS Group will be exhibiting at Biz Expo 2022 on 29th September. You can chat with their team between 10am and 4pm at Sport Ireland National Indoor Arena. Biz Expo is free to attend. You can register for your ticket right here.
About SYS Group
SYS is a leading financial services business, headquartered in Nenagh, Co. Tipperary. The company was established in 2015 to bring a new standard in financial planning to business owners, professionals and families. From their network of offices across Ireland, their team of experienced and expert financial consultants deliver valuable and unbiased financial advice to all of their corporate and individual clients. Their Private Clients team meets the specific needs of High Net Worth individuals and family offices.
The team at SYS lives by the guiding principle of Sophisticated Yet Simple. They utilise the latest innovations and contemporary methods of financial planning, supported by access to an extensive range of financial products and solutions. These are delivered in simple and transparent ways, to ensure your full understanding at every stage of your financial journey.
SYS prides itself on providing unparalled, unbiased advice in relation to your investments, pensions, and protection needs, with a single focus on achieving the very best outcomes for you.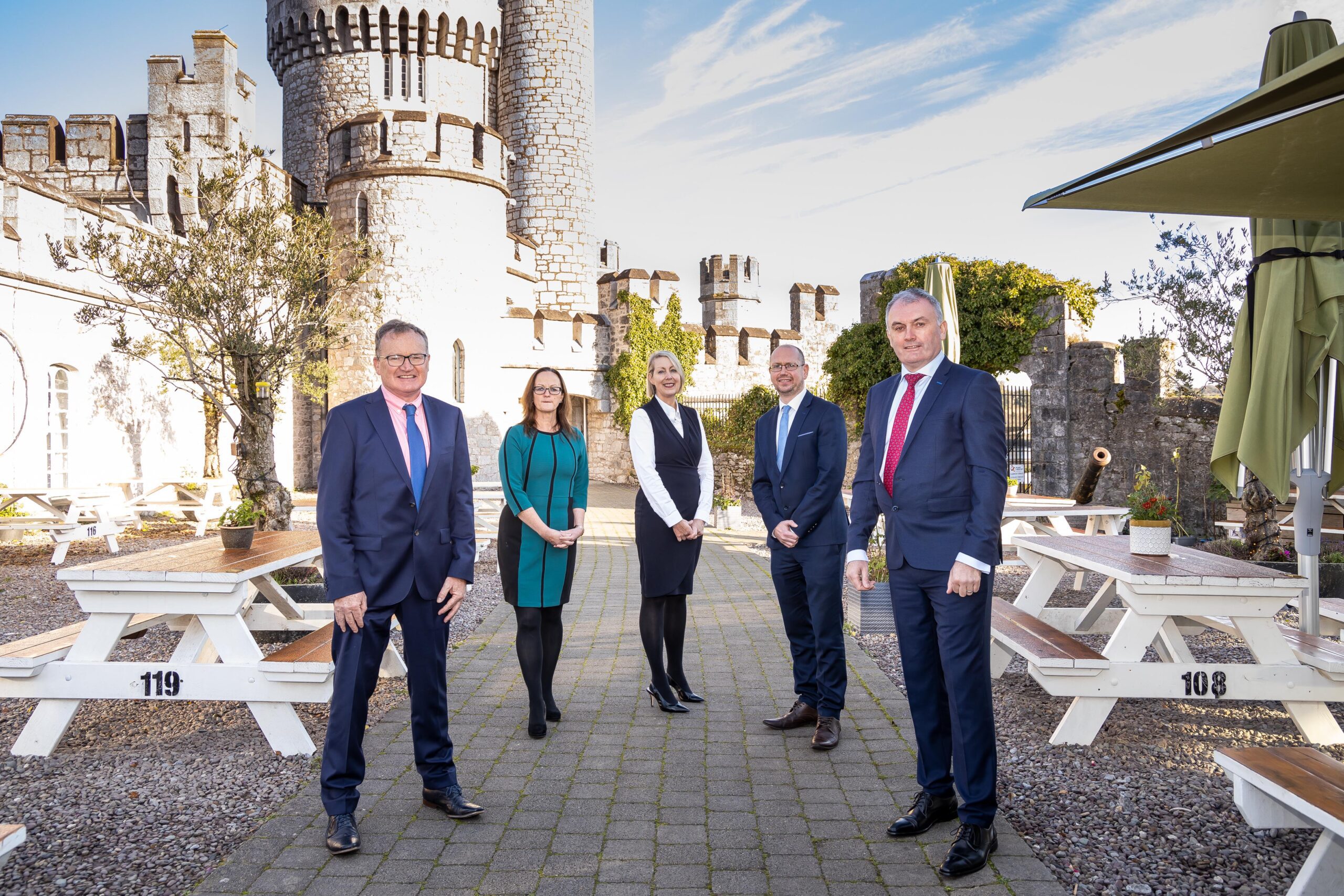 Client interests come first: You can be secure in the knowledge that they always act in your best interests.
Service excellence: As an ISO 9001 accredited business, they make their processes and services as efficient and timely as possible.
Highly skilled people: They continuously grow the quality of their people. They appoint qualified individuals and facilitate ongoing personal development.
Compliance excellence: They embrace and deliver the best practices as outlined by the Central Bank of Ireland to ensure your money is always secure.
Multi award winning: SYS has been recognised for excellence in financial advice by industry leaders, service excellence bodies and other 3rd party awards organisations.
Friendly and collaborative: Every interaction with SYS is professional, valuable and rewarding.