Our company is a Business Centre that provides wide range of services. We hand-hold our clients from the initial business idea to fully-fledged business coaching, management and financial services. Our expertise has helped clients with localization, adaptation, integration, as well as operational challenges and HR management. We work with local businesses as well as international clients, and we also partner with other entrepreneurs, government and banks to help our clients to find right people for their business.
Our main service are:
Independent HR Services
Company formation
Business advice and coaching
Accounting, book keeping & tax returns
Business Management
Localization, adaptation & integration
RIGHT SOLUTION CENTRE Ltd is a company with high quality services by staff with numerous years of experience. We always fulfil our obligations prior to agreed deadlines, and we pride ourselves in the quality of the service we deliver.
Address: 2413 Euro Business Park, Little Island, Cork T45 AY89
Phone: +353 (21) 201-0961 / Mobile: +353 (86) 700-8031
Email: info@rightsolutioncentre.com
Website: www.rightsolutioncentre.com / www.fso365.com
https://www.facebook.com/right.solutioncentre
https://www.instagram.com/rightsolutioncentre/
https://www.linkedin.com/company/10626007/admin/
With over a decade of experience creating custom business intelligence dashboard reports Sontai Data Solutions have great experience in delivering a wide range of business solutions to visualise your data in just the way you want and need to make your key business decisions and drive your business forward.
With a passion for data, we are focused on your priorities and your objectives, working with you each step of the way to meet your business requirements.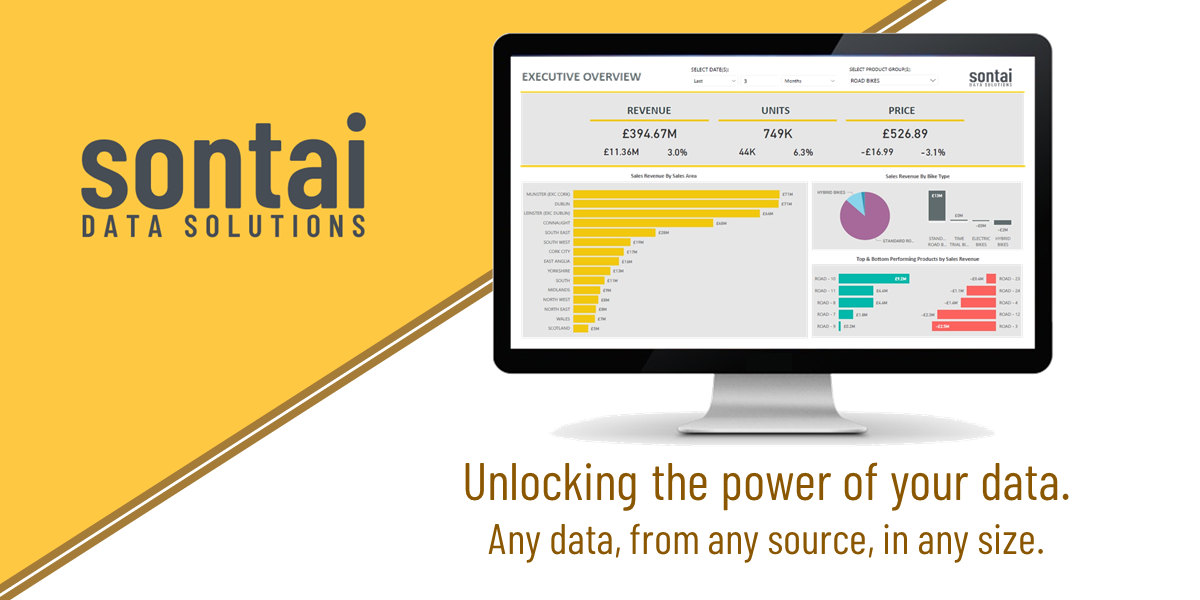 PRESENTING THE
ALL STAR AWARDED REVENUE GROWTH & PROFIT BUSINESS STRATEGIST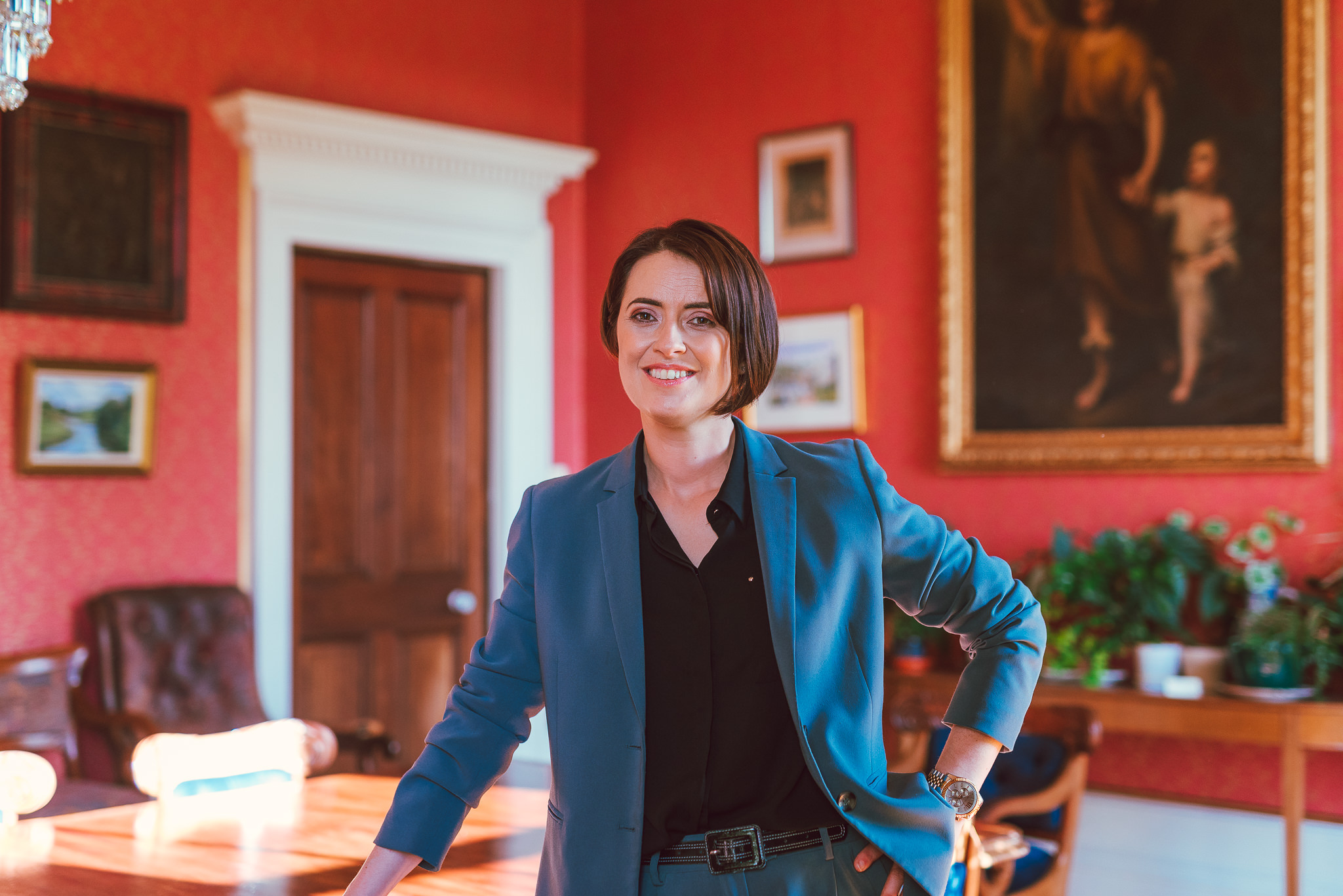 "I work with businesses who achieve, succeed and exceed. I love to see success happen." Mags Boland Murphy.
Mags Boland-Murphy, All Star awarded, accredited and experienced business consultant, tourism & hospitality consultant, national event manager, business sales, marketing & media professional, established Bofin Consultancy in 2011. The business provides a full suite of professional business growth consultancy services including; profit planning, business development, sales, marketing reach, tourism consultancy and tailored consultancy solutions specific to the client's business aims, objectives and requirements.
Mags works with growing businesses who may be facing operational and strategic challenges, struggling with sales & marketing and panicking about profits – to plan, package and promote their businesses so that they connect with more of their ideal customers and to recharge revenue. She helps them to focus their passion on ventures and opportunities that deliver powerful growth and profoundly profitable businesses.
In her previous life, Mags worked in the private commercial arena for over 20 years. She has also acted as course lecturer at HSI College, Limerick, Ireland and has been a guest lecturer at University of Wales, Cardiff and as guest lecturer to business students in Sweden.
The business offices are located at Enniscorthy Enterprise Centre, Enniscorthy, Co. Wexford, Ireland. Mags works with clients nationwide in Ireland, UK and Sweden. Bofin Consultancy works with Tourism & hospitality, food, construction, professional services, SMEs, start-ups and business support organisations. Bofin Consultancy & Mags Boland Murphy enjoy helping business members as a business mentor with Enterprise Ireland and 5 LEO offices nationwide. Mags is also accredited with the International Authority of Business mentors. Mags is known for saying it straight, she has a no-nonsense approach to business, believes in being proactive, positive and supporting those businesses who are serious about success.
SOLUTIONS & SERVICES FROM BOFIN CONSULTANCY
Tourism/Hospitality Consultancy & Business Consultancy.
Strategic Sales & Marketing for success.
Business Mentoring and Profit Planning.
Professional focused bespoke business, operational & customer service masterclasses.
Professional speaking support resource.
THE PROMISE
Bofin Consultancy is here to help your business professionally at all times. We are not magicians – fact! If you are serious about taking your business forward and planning for profit, then we can help you do so. The focus is to work with the client to helping businesses increase their revenue stream, increasing awareness and repeat business with proactive activity.
Ultimately, we work with businesses to help them to get the work done, which, helps them to get them to where they want to be and to grow revenue consistently.
Why you should work with Bofin Consultancy
Professionally experienced & properly qualified. Mags Boland is qualified with a Business Marketing, Tourism & Hospitality Management B.A. (Hons) from the University of Wales. Mags also has a Diploma in Business Management Development and is both professionally experienced in the commercial arena and properly qualified. She brings with her over 20 years industry and commercial experience. Mags will work with your agreed requirements and these are consistently managed.
Bofin Consultancy is an award winning and accredited business who engages third party suppliers who are professionally qualified and experienced. We have an unblemished professional indemnity record.
We are an Irish All-Star awarded and accredited business as Thought Leader in Revenue & Profit Business Strategy.
We are passionate about business. We are genuinely passionate about our work and about doing business. This passion helps us to provide a superior service. We support progress and we will always support businesses who are focused on making progress, innovation and simply succeeding.
We work to breath power into the business and marketing effort regardless of the sector you operate in. We provide an unbiased and objective business viewpoint.
We work to help you to pull prospective clients to your business. We work to help you to pull your prospective clients and audience to your business in the right way.
Get the return on investment (ROI) every time with every spend. We address the ROI with every client and work piece.
Operate professionally and ethically at all times. We are not an agency, we are a professional, independent consultancy with no bias to any entity/medium. We keep it real at all times, we believe that business, money and time are too valuable to be wasted.
We work to increase the value of our service to your business. We are constantly learning and we study the sectors we work with. We are constantly building the quality of our service offer to your business.
We make the business consultation process an easy one. Everything is done in a simple and transparent way.
We also offer the facility to schedule online meetings saving you more time.
Find out more and say hello online at www.bofinconsultancy.com
Like us on Facebook at www.facebook.com/bofinconsultancy. Tweet us @bofinconsultant . Connect on www.linkedin.com/in/magsboland
FIND OUT WHAT SOME OF OUR CLIENTS SAY HERE https://bofinconsultancy.com/what-clients-say/
"Irish Education Partners (IEP) have been placing talented international students into host companies in Dublin since 1989. All of these students are looking for unpaid internships for between 2 weeks and 10 weeks and have received either Erasmus or some other type of funding to cover the expenses of their experience in Ireland. Whether it is to control staff costs, get a project you've been putting off doing or if your office could use an extra pair of hands, IEP will find you a suitable candidate to meet your requirements. For your peace of mind, IEP ensures that all of our interns have insurance that fully protects your company and themselves for the duration of the internship. So get yourselves fully prepared for 2020 by making use of these talented interns that are at your disposal."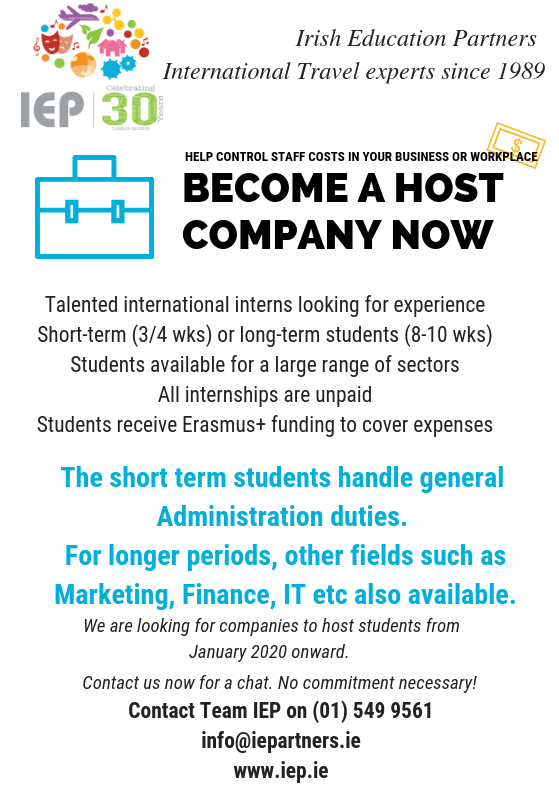 Bronagh Cotter, the founder of BCS Recruitment, will be taking over the management of Biz Expo 2020. Ireland's premiere B2B exhibition, this popular event is held annually at City West Hotel, Dublin. With attendance growing year-on-year, Biz Expo remains a great opportunity for SMEs to build brand awareness, develop client relationships and network with other organisations across a wealth of industries.
About Biz Expo
Biz Expo Ireland was established in 2012, and has since served as the country's leading Business to Business exposition and networking event. Under the leadership of BCS recruitment, Biz Expo provided the perfect environment for both exhibitors and visitors alike to forge new opportunities in a vibrant, engaging setting.
Now in its eighth year, the Biz Expo maintains a strong track record of running comprehensively managed and well-attended annual events. Biz Expo 2020 will return once again to the City West Hotel in Dublin, attracting businesses and guests for an intensive day of inspiring seminars, interactive workshops and networking opportunities that every company could benefit from.
BCS Recruitment: working with businesses on the ground
BCS Recruitment has been at the forefront of the Jobs Expos since the inaugural event almost a decade ago, and will be among the main sponsors at the upcoming expos in Cork, Galway and Dublin. In subsequent years, under BCS management, more than 100,000 jobseekers have attended events across the country, both North and South of the border.
Headed by Bronagh Cotter, the BCS team of industry experts will be on site at the Biz Expo 2020. This specialist consultancy firm delivers top-tier Human Resources services to businesses across every sector. The role that BCS fills is more than simple recruitment, they manage the selection of specialised professionals, from graduate/trainee right through to senior manager/director levels. Also, towards the end of this year, BCS will introduce virtual recruitment facilities to cater for their clients in tech, as well as multinationals hiring from abroad.
Register your interest now for Biz Expo
To find out more about how you can elevate your business, contact BCS Recruitment today by emailing info@bcssalesrecruitment.com or to register for next year's Biz Expo, click here.
We're very excited about our upcoming B2B trade show, Biz Expo 2020, for next February 20th. Here's a taste of our last event in June.
ÍOCsave is the largest Irish owned, independent card payment processing company in Ireland; who take pride in supporting SME's across Ireland. Because we know the issues Irish business face at the moment, we provide a more cost effective solution to small and medium businesses in Ireland. Our industry leading payment technology provides full contactless payments in addition to building a long term beneficial solution in providing desktop, portable (Bluetooth) and fully mobile credit card terminals.
We guarantee a seamless transaction of funds into a merchant's current account through our exclusive partnership with WorldPay, who are the leading acquirer in Europe. This partnership provides us with the accompanying cost effective rates we are able to offer the SME sector.  In addition, our ability to build a strong long term and consistent relationship with the SME owner enables us to educate and nurture merchants in increasing their business turnover.
We continue to lead the way in advising and assisting businesses on every aspect of taking card payments, with the easiest set-up process in the market, our highly skilled field and back-office staff will be with you every step of the way. Our team are always on hand – and in your premises! – to give unrivalled support to keep your business doing what it should do, grow!
BHSM is a fast-growing, full service corporate law firm with a strong depth of expertise. Our clients will tell you that we combine practical advice with a superior level of service.
Our aim is to deliver effective and innovative legal solutions for our clients.
Our sectoral experience gives us the confidence to give sound advice and recommend a course of action, allowing you to move forward. Key to our success is great communication and commercial awareness of our clients' challenges and objectives.
We like to be approachable, straight-forward and efficient. We are highly meticulous, at no cost to the broader view. We strive to achieve the best outcome for our clients and believe your success will lead to our success.
Our key practice areas are Corporate, Banking & Finance, Real Estate, Litigation & Dispute Resolution, Insolvency & Corporate Restructuring, and Employment.
We work with clients across the full spectrum of sectors from fast-growing businesses and multinational companies to innovative start-ups and private individuals.
At the heart of BHSM is our people. We are a dynamic and ambitious team of over 40 – made up of partners, associate solicitors, solicitors, trainees and support professionals.
Our people are the reason for our continued success and growth. Together, we've nurtured a company culture that we're really proud of. We believe it's what sets us apart. We strike a balance between approachable and professional, meticulous and innovative. Above all, our people are committed to service and solutions.
To discuss your requirements or find out more about BHSM, please contact us by phone (+353 1 440 8300), email (info@bhsm.ie) or via our website (www.bhsm.ie).
We're delighted to have the Smart Card team return to Citywest for Biz Expo 2020. You can find all there is to know about their business on Thursday 20th February at the Citywest Conference Centre.
What is Smart Card?
A digital business card solution.
Your business profile, branding, contact information, website and social media links all stored in one place.
Accessible on your smart phone (Apple and Android), your tablet, laptop and/or computer – on any device where you have an internet connection.
A secure online marketing tool that is reliable and straightforward to use.
An environmentally friendly way of promoting your business.
What does it do?
It transforms your paper business card into a mobile digital identity which can be taken anywhere in the world 24/7.
It facilitates simple sharing of your digital business card with colleagues, clients, prospective clients and leads.
It improves your business's google ranking – card buttons are linked to your company website.
It provides valuable analytics in the form of monthly reports which give direct visibility of card usage and website interest.
It offers a user-friendly way to transact – whether that means bringing people to your shop page or encouraging them to become members of a service you provide. It's easily done at the touch of a button.
Smart Card is so user friendly, anyone can use their card on any device without special knowledge.
By using the Forward to Phone or Forward to Email buttons, you can send out your smart digital card to anyone.
Then they have the option to either view online, download to their phone (an icon will be created on their screens) or save it to their directory for easy access.